ACA Open Enrollment Season Is Here
-
11/01/17
After a November 1 start, the window closes December 15. This fall, the annual enrollment period to sign up for health insurance is shorter. In many states, it lasts only six weeks, from November 1 to December 15, and the federal government website link to health coverage, healthcare.gov, will be down for maintenance on many Sundays...
[+] Full Article
Medicare Enrollment Options for 2017-18
-
10/10/17
A summary of what you need to know. Key Medicare enrollment periods are approaching. This fall and winter, there are three periods in which Medicare beneficiaries can either enroll or disenroll in forms of coverage.
[+] Full Article
Begin the Conversation About Social Security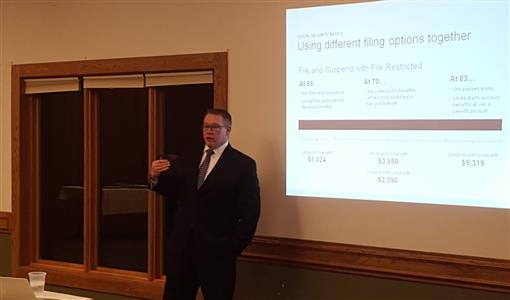 Dave Harris, Nationwide
March 22, 2016
GCSB Investment Center successfully completed its second annual Social Security workshop locally at Panora's Lake Panorama National Conference Center. Dave Harris, Vice President, Nationwide, was the keynote speaker. Mr. Harris helped attendees better understand the recent changes to Social Security as well as provided tips to maximize retirement benefit.
Establishing your Social Security plan is one of the most important decisions you will make for your retirement years. GCSB Investment Center is going above and beyond to help educate the community with the resources needed to make informed decisions.
Social Security can be a complex maze of rules and filing options that can require guidance and direction. Mr. Harris shared a presentation to educate as well as learn how to compare all the options and make an informed decision.
The first lesson is to begin a conversation about retirement income options with your financial advisor. An informed advisor will work with you to build a comprehensive retirement income solution that will support you, your family and your financial goals. Social Security was never intended to be the sole source of your retirement income. But, if your decisions are not planned out, you could be missing out on thousands of dollars of additional income.
Social Security is a choice of a lifetime because you only get one chance to make the best decision to support you and your living spouse, if married.
Connect with Kristen at GCSB Investment Center today to learn more!
Click Here for Nationwide's The Choice of a Life Time Brochure