Tax Efficiency in Retirement
-
05/07/18
How much attention do you pay to this factor? Will you pay higher taxes in retirement? Do you have a lot of money in a 401(k) or a traditional IRA? If so, you may receive significant retirement income. Those income distributions, however, will be taxed at the usual rate. If you have saved and invested well, you may end up retiring at your current marginal tax rate or even a higher one.
[+] Full Article
Will Teachers Get the Retirement They Deserve?
-
04/20/18
Classroom educators are coping with hybrid plans and pension fund shortfalls. Arizona. Kentucky. Massachusetts. Michigan. Pennsylvania. Rhode Island. Tennessee. In these states and others, teachers are concerned about their financial futures. The retirement programs they were counting on have either restructured or face critical questions.
[+] Full Article
Begin the Conversation About Social Security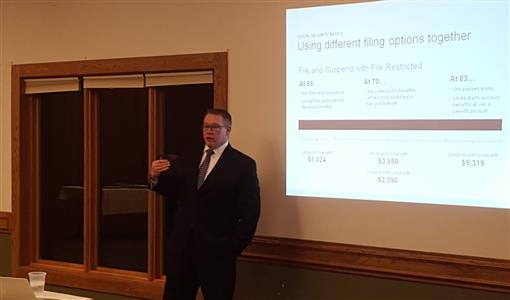 Dave Harris, Nationwide
March 22, 2016
GCSB Investment Center successfully completed its second annual Social Security workshop locally at Panora's Lake Panorama National Conference Center. Dave Harris, Vice President, Nationwide, was the keynote speaker. Mr. Harris helped attendees better understand the recent changes to Social Security as well as provided tips to maximize retirement benefit.
Establishing your Social Security plan is one of the most important decisions you will make for your retirement years. GCSB Investment Center is going above and beyond to help educate the community with the resources needed to make informed decisions.
Social Security can be a complex maze of rules and filing options that can require guidance and direction. Mr. Harris shared a presentation to educate as well as learn how to compare all the options and make an informed decision.
The first lesson is to begin a conversation about retirement income options with your financial advisor. An informed advisor will work with you to build a comprehensive retirement income solution that will support you, your family and your financial goals. Social Security was never intended to be the sole source of your retirement income. But, if your decisions are not planned out, you could be missing out on thousands of dollars of additional income.
Social Security is a choice of a lifetime because you only get one chance to make the best decision to support you and your living spouse, if married.
Connect with Kristen at GCSB Investment Center today to learn more!
Click Here for Nationwide's The Choice of a Life Time Brochure