3 Tips for the Second Half of 2022
-
08/01/22
With half the year behind us, now is a great time to consider what the remainder of 2022 may hold. However, with inflation and economic uncertainty causing many of us to delay or cancel vacations, large purchases, and more, it can be challenging to know where to start.
[+] Full Article
Don't Be Your Own Worst Enemy
-
07/01/22
One of the most well-known investors of the 20th Century, Benjamin Graham, said that "the investor's chief problem—and even his worst enemy—is likely to be himself." Let's take a quick look at a few of the human emotions and biases that can adversely impact sound investment decision-making.
[+] Full Article
Moving on up!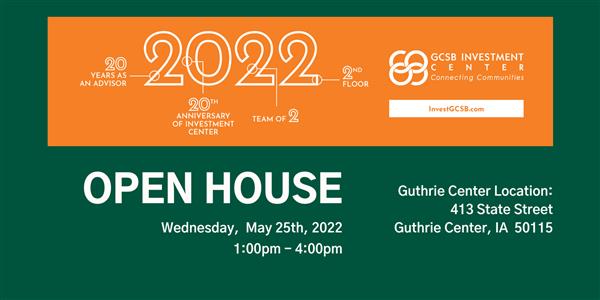 May 11, 2022
GCSB Investment Center invites you to an Open House to celebrate some upcoming changes. Vicki Gubser is retiring, Casey Jones has joned our team, and we are moving our Guthrie Center offices upstairs.
Our team at GCSB Investment Center will now have a dedicated area on the second floor of the Guthrie Center branch of Guthrie County State Bank. For those who meet with us in our Panora location, we still have the same dedicated office in that branch as well.
Please plan to join us at the Guthrie Center location to see our new office space, say goodbye to Vicki, and meet Casey! Just take the stairs or elevator at the north entrance and follow the signs to find us.
We will have cookies and beverages and would love to visit with you.
WHEN: Wednesday, May 25, 2022
TIME: 1:00pm - 4:00pm
WHERE: 413 State Street, Guthrie Center, IA 50115
Event details website: http://www.library-messages.com/af3d648a-ea27-44cb-9ec0-9d23b95ded48/events/gcsb-investment-center-open-house