Small Business Workshop - Thursday, March 1
-
02/07/18
Small business decisions can be complicated. Join us for a complimentary workshop on Thursday, March 1.
[+] Full Article
End-of-the-Year Money Moves
-
11/27/17
Here are some things you might want to do before saying goodbye to 2017. What has changed for you in 2017? Did you start a new job or leave a job behind? Did you retire? Did you start a family? If notable changes occurred in your personal or professional life, then you will want to review your finances before this year ends and 2018 begins.
[+] Full Article
Tooth Fairy's Generosity Flying High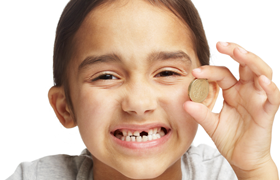 October 6, 2015
Talk about an economic stimulus plan – at least for the next generation of investors.
According to the Delta Dental® Tooth Fairy IndexSM, the average gift from the Tooth Fairy was a record-setting $4.36 in 2014. Total payouts for those pearly whites added up to an estimated $255 million.
Delta Dental created The Original Tooth Fairy Poll® in 1998, and the statistics provide a general indication of the overall U.S. economy. The Tooth Fairy Index has tracked with the S&P 500 Index® in 11 of the past 12 years.
Last year's average increased 24.6% from the $3.50 average in 2013. The S&P 500 increased 11.4% last year.
The tooth fairy tends to pay a premium during her initial visit. The average gift for the first tooth was $5.74 last year, an increase of 27% from 2013.
Begin the conversation early with your children and grandchildren about the basics of investing.
Author, Aaron Lopez, Transamerica New Age of Advice