The Details More People Should Know About Medicare
-
08/29/18
Before you enroll, take note of what the insurance does not cover and the changes ahead. Misconceptions about Medicare coverage abound. Our national health insurance program provides seniors with some great benefits. Even so, traditional Medicare does not pay for dental care, vision care, or any real degree of long-term care. How about medicines? Again, it falls short.
[+] Full Article
Save & Invest - Even if Money is Tight
-
08/06/18
For millennials, today is the right time. If you are under 30, you have likely heard that now is the ideal time to save and invest. You know that the power of compound interest is on your side; you recognize the potential advantages of an early start.
[+] Full Article
Tooth Fairy's Generosity Flying High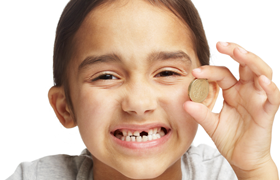 October 6, 2015
Talk about an economic stimulus plan – at least for the next generation of investors.
According to the Delta Dental® Tooth Fairy IndexSM, the average gift from the Tooth Fairy was a record-setting $4.36 in 2014. Total payouts for those pearly whites added up to an estimated $255 million.
Delta Dental created The Original Tooth Fairy Poll® in 1998, and the statistics provide a general indication of the overall U.S. economy. The Tooth Fairy Index has tracked with the S&P 500 Index® in 11 of the past 12 years.
Last year's average increased 24.6% from the $3.50 average in 2013. The S&P 500 increased 11.4% last year.
The tooth fairy tends to pay a premium during her initial visit. The average gift for the first tooth was $5.74 last year, an increase of 27% from 2013.
Begin the conversation early with your children and grandchildren about the basics of investing.
Author, Aaron Lopez, Transamerica New Age of Advice