ACA Open Enrollment Season Is Here
-
11/01/17
After a November 1 start, the window closes December 15. This fall, the annual enrollment period to sign up for health insurance is shorter. In many states, it lasts only six weeks, from November 1 to December 15, and the federal government website link to health coverage, healthcare.gov, will be down for maintenance on many Sundays...
[+] Full Article
Medicare Enrollment Options for 2017-18
-
10/10/17
A summary of what you need to know. Key Medicare enrollment periods are approaching. This fall and winter, there are three periods in which Medicare beneficiaries can either enroll or disenroll in forms of coverage.
[+] Full Article
Tooth Fairy's Generosity Flying High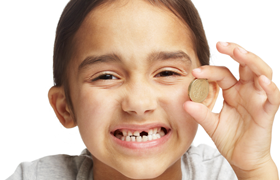 October 6, 2015
Talk about an economic stimulus plan – at least for the next generation of investors.
According to the Delta Dental® Tooth Fairy IndexSM, the average gift from the Tooth Fairy was a record-setting $4.36 in 2014. Total payouts for those pearly whites added up to an estimated $255 million.
Delta Dental created The Original Tooth Fairy Poll® in 1998, and the statistics provide a general indication of the overall U.S. economy. The Tooth Fairy Index has tracked with the S&P 500 Index® in 11 of the past 12 years.
Last year's average increased 24.6% from the $3.50 average in 2013. The S&P 500 increased 11.4% last year.
The tooth fairy tends to pay a premium during her initial visit. The average gift for the first tooth was $5.74 last year, an increase of 27% from 2013.
Begin the conversation early with your children and grandchildren about the basics of investing.
Author, Aaron Lopez, Transamerica New Age of Advice