The Details More People Should Know About Medicare
-
08/29/18
Before you enroll, take note of what the insurance does not cover and the changes ahead. Misconceptions about Medicare coverage abound. Our national health insurance program provides seniors with some great benefits. Even so, traditional Medicare does not pay for dental care, vision care, or any real degree of long-term care. How about medicines? Again, it falls short.
[+] Full Article
Save & Invest - Even if Money is Tight
-
08/06/18
For millennials, today is the right time. If you are under 30, you have likely heard that now is the ideal time to save and invest. You know that the power of compound interest is on your side; you recognize the potential advantages of an early start.
[+] Full Article
Will you accept the "Cy Hawk Savings Challenge"?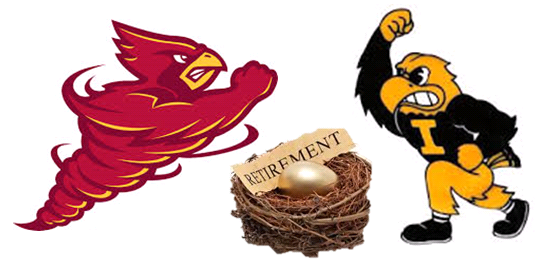 September 2, 2015
"Cy Hawk Savings Challenge" Case Study
Excerpted from Author: Dr. Mark Power, Professor of Finance
Iowa State University, College of Business
Good friends, Cy and Herky are both nearing retirement at age 65. At a pregame tailgate for the annual Iowa - Iowa State football game, they compared their retirement savings strategies. Both Cy and Herky participated in the "CyHawk Savings Challenge", and contributed to a traditional Individual Retirement Account (IRA). Herky's strategy was to spend now and save later. He had a great time for 20 years going to all Hawkeye football home, away and bowl games and at age 45 he decided his income was sufficient to contribute $4,000 annual to his IRA and continued following his Hawkeyes. Since the Cyclone football team was not going to bowl games at that time, Cy decided to start investing $2,000 in an IRA immediately at age 25. She decided to stop contributing at age 45 and became a regular Cyclone bowl game attendee. Neither Cy nor Herky withdrew savings or borrowed from their IRAs and both invested in age-appropriate, well diversified portfolios that earned an average annual return of 10 percent.
Who won the "CyHawk Savings Challenge" and why?
Cy accumulated almost $848,000 compared to Herky's $252,000.
The good news is that neither sum is trivial and because both accepted the "Savings Challenge", their IRAs exceed the current average IRA balance at age 65 of approximately $125,000.
When Cy stopped contributing at age 45, she had an IRA balance of $126,000 and that balance compounded for the next 20 years at 10 percent, while Herky was just getting started saving and had a zero balance. Cy's balance of $126,000 at age 45 was invested for another 20 years and grew an additional $722,000 strictly due to compound interest.
Will you accept the Cy Hawk Savings Challenge? Give me a call today to discuss your retirement planning strategies and goals!