Reacting to "Headlines" - Three Case Studies
-
09/28/15
Three cases for how reactions to "headlines" affected clients during the downturn of 2008-09...
[+] Full Article
The Fed Decides to Wait
-
09/18/15
In a tough time for equities, it elects not to roil the markets. On Thursday, the Federal Reserve postponed raising short-term interest rates. Citing "global economic and financial developments" that could "somewhat" impair economic progress and lessen inflation pressure, the Federal Open Market Committee voted 9-1 against a rate hike, with Richmond Fed President Jeffrey Lacker being the lone dissenter. This spring, a September rate hike seemed probable – but during this past week, assumptions grew that the central bank would put off tightening. On Wednesday, the futures market put the likelihood of a rate hike at less than 30%. The latest economic indicators did not suggest the time was right.
[+] Full Article
Keeping All This Volatility in Perspective
-
09/11/15
Fall might be anything but calm on Wall Street. Volatility is back, in a big way: the CBOE VIX has risen more than 105% since the end of July. Additionally, 11 of the 15 trading days ending September 9 were "all or nothing" days in which more than 80% of the S&P 500 moved either higher or lower. In the last 25 years, the index has not had a 15-day period like this. Contrast that with the first 159 trading days of 2015, in which just 13 such days occurred according to Bespoke Investment Group research. In fact, during the first half of 2015 the Dow Jones Industrial Average was never more than 3.5% up or down YTD, on pace for the most placid year in its history. This turbulence may persist for several more weeks or months. How does an investor cope with it? It helps to put all of this recent volatility into perspective.
[+] Full Article
About Us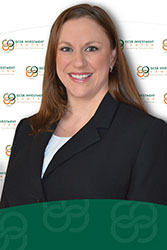 Kristen Crouthamel Financial Advisor
GCSB Investment Center
Kristen brings more than 15 years of experience in the financial planning, investment, tax and banking industries with companies like VSR Financial Services, Ernst & Young, AmerUs Life Holdings and Commercial Federal Bank. Her responsibilities included specifically servicing clients' investment accounts as well as opening accounts and day-to-day communication, portfolio analysis and management.
She is committed to educating our clients about the variety of investment options available and currently holds the FINRA Series 7 and 63 securities licenses. She is licensed in Iowa and nine other states. Kristen believes in a client-first approach, ensuring her clients' needs are met and questions fully answered.
Born and raised in rural Boone County, Iowa, Kristen earned an associate degree from the American Institute of Business and a Bachelor of Science degree from Upper Iowa University, both in Des Moines, Iowa. She was raised by hard-working parents, who passed on to their daughter their dedicated work ethic and small town values. Kristen recently relocated to an acreage in Guthrie County and is glad to be back to her rural roots. She looks forward to becoming actively involved in the communities she serves.
Kristen is an avid animal lover and also enjoys fishing, cooking, spending time with her family and attending sporting events and country music concerts. In addition, she frequently volunteers for various non-for-profit organizations such as Habitat for Humanity, Meals from the Heartland and the Blank Park Zoo.
Give Kristen a call or stop by her offices in Guthrie Center and Panora for more information. She looks forward to serving all of your financial planning and investment needs.