The SECURE Act
-
01/21/20
Long-established retirement account rules change. The Setting Every Community Up for Retirement Enhancement (SECURE) Act is now law. While the new rules don't appear to amount to a massive upheaval, the SECURE Act will require a change in strategy for many Americans. For others, it may reveal new opportunities.
[+] Full Article
Measuring the Value of a Financial Advisor
-
12/31/19
One study asserts that these relationships can make a difference for investors. What is a relationship with a financial advisor worth to an investor? A 2019 study by Vanguard, one of the world's largest money managers, attempts to answer that question.
[+] Full Article
Tooth Fairy's Generosity Flying High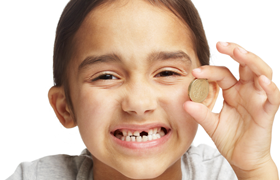 October 6, 2015
Talk about an economic stimulus plan – at least for the next generation of investors.
According to the Delta Dental® Tooth Fairy IndexSM, the average gift from the Tooth Fairy was a record-setting $4.36 in 2014. Total payouts for those pearly whites added up to an estimated $255 million.
Delta Dental created The Original Tooth Fairy Poll® in 1998, and the statistics provide a general indication of the overall U.S. economy. The Tooth Fairy Index has tracked with the S&P 500 Index® in 11 of the past 12 years.
Last year's average increased 24.6% from the $3.50 average in 2013. The S&P 500 increased 11.4% last year.
The tooth fairy tends to pay a premium during her initial visit. The average gift for the first tooth was $5.74 last year, an increase of 27% from 2013.
Begin the conversation early with your children and grandchildren about the basics of investing.
Author, Aaron Lopez, Transamerica New Age of Advice