Long-Term Investing Truths
-
07/31/19
Key lessons for retirement savers.
You learn lessons as you invest in pursuit of long-run goals. Some of these lessons are conveyed and reinforced when you begin saving for retirement, and others, you glean along the way.
[+] Full Article
Your Financial Co-Pilot
-
06/30/19
If anything happens to you, your family has someone to consult.
If you weren't around, what would happen to your investments? In many families, one person handles investment decisions, and spouses or children have little comprehension of what happens each week, month, or year with a portfolio.
[+] Full Article
Tooth Fairy's Generosity Flying High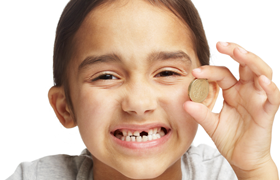 October 6, 2015
Talk about an economic stimulus plan – at least for the next generation of investors.
According to the Delta Dental® Tooth Fairy IndexSM, the average gift from the Tooth Fairy was a record-setting $4.36 in 2014. Total payouts for those pearly whites added up to an estimated $255 million.
Delta Dental created The Original Tooth Fairy Poll® in 1998, and the statistics provide a general indication of the overall U.S. economy. The Tooth Fairy Index has tracked with the S&P 500 Index® in 11 of the past 12 years.
Last year's average increased 24.6% from the $3.50 average in 2013. The S&P 500 increased 11.4% last year.
The tooth fairy tends to pay a premium during her initial visit. The average gift for the first tooth was $5.74 last year, an increase of 27% from 2013.
Begin the conversation early with your children and grandchildren about the basics of investing.
Author, Aaron Lopez, Transamerica New Age of Advice