April is Financial Literacy Month
-
04/01/23
April marks the start of Financial Literacy Month, a nationally recognized movement to promote and support financial understanding in children and teens. For many, it's a fantastic opportunity to teach and connect with their children or grandchildren...
[+] Full Article
2023 Changes to Iowa's Retirement Taxes
-
03/01/23
In March of 2022 Iowa Governor Kim Reynolds signed a historic Iowa tax reform bill. One of the biggest changes from the bill is that starting in 2023, Iowans aged 55 or older are exempt from paying state taxes on retirement income...
[+] Full Article
Kristen Celebrates 20 years!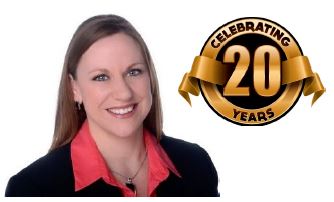 July 1, 2021
This month, Kristen Crouthamel, AIF® - Financial Advisor, is celebrating 20 years in the investment advice industry. After working with advisors at two successful wealth management firms in the Des Moines metro area for over twelve years, Kristen joined Guthrie County State Bank's GCSB Investment Center in January 2014.
"When I began my career in this industry, I instantly loved the work I was doing and the fact that we were helping people. My mother was an intensive care nurse. She loved her patients and took great pride in caring for them. I like to think I do the same for our clients. I'm very thankful that this journey led me here and am truly honored to call Guthrie County home. I am grateful for all of our clients, bank team members, and friends I've made. I look forward to many more years serving as your trusted independent Financial Advisor," said Kristen.
According to Kristen, it's very important for clients to do their own due diligence when choosing a financial advisor to help them invest and manage their hard-earned savings. She advises people to thoroughly research the advisor, their fiduciary obligations and training, and their backgrounds and resumes.
In the third quarter this year, GCSB Investment Center will be surveying its clients to get to know them a little better. For Kristen's 20th anniversary, the team asked her 20 questions, too!
Q: Have you ever met someone famous?
A: Several, actually. Helen Hunt and other cast members of Twister while they were filming near my childhood home in northern Boone County. I've also met Harlan Williams, Clare Dunn, Joe Nichols, Bomshel, and Jay Leno. And recently I bumped into Iowa celebrities Ed Wilson, Keith Murphy and Willie Ferrell while on vacation.
Q: Favorite holiday: beach, mountain or city?
A: I love to travel, so they would all be wonderful, but probably lean more towards the beach or city travel. I love to immerse myself in other cultures. As a foodie, I make a point to try local foods and spirits and to typically support small, local establishments and entrepreneurs. I'm intrigued by the history of the places I travel to and admire beautiful landscapes and old architecture, as well.
Q: Favorite movie?
A: The Graduate
Q: Favorite sports teams?
A: Iowa State Cyclones, Minnesota Vikings, New York Yankees, Denver Nuggets and Nashville Predators
Q: Do you like rollercoasters?
A: LOVE rollercoasters!
Q: What was your first job?
A: Walking beans for my Dad and my Uncle Lou. One of my Dad's favorite quotes growing up was "I love to see kids work!" and that's always stuck with me. He instilled in us a great work ethic.
Q: How many siblings do you have?
A: I have one older brother, Mike and a younger sister, Ashley. I've also got two awesome siblings-in-law, Amy & Greg, and have one nephew and three nieces that I love to pieces!
Q: Summer or winter?
A: Summer, no question!
Q: If you could do any other job, what would it be?
A: Veterinarian or Pilot
Q: What is your favorite board game?
A: Growing up it was always PayDay or Monopoly. I'm sure that is not surprising! I also LOVED playing all kinds of card games with my Grandma Ruth and my Grandma & Grandpa Jessie & Lowell.
Q: Have you had any family members in the military?
A: Yes, my late Grandfathers Lowell and John served in the Army in WWII, and late Grandfather Heav served in the Navy during WWII. My Uncle Lonnie and Aunt LeAnn served in the Army and Navy, respectively. My brother served in the Navy during Desert Storm. Several cousins have served or still serve in the Air Force, Army, Marines and National Guard branches as well.
Q: Do you play any sports?
A: I played softball for 15 years growing up. We played basketball, soccer & volleyball in elementary and middle school against other small-town parochial schools. I was a cheerleader and an athletic trainer throughout high school. As an adult I've been on softball, volleyball, kickball, billiards, golf and bowling leagues over the years and have more recently enjoyed cycling. I love to water-ski, but one sport I am admittedly terrible at is downhill snow-skiing!
Q: How many countries have you been to?
A: I've visited seven countries including Canada, Mexico, Belize, Bahamas, Jamaica, France, Germany. I enjoyed the Cayman Islands also, but it is not its own country.
Q: What is your next dream vacation?
A: Pre-pandemic, I was planning a trip to Italy and Greece, which was cancelled. That is next on my bucket list, but anywhere in western Europe would be amazing. I'd also like to visit Thailand, Israel, Turkey & Costa Rica. There are parts of the U.S. and Canada I've never been that I'd love to visit, like Texas, New England, the Northwest U.S., Vancouver and Toronto.
Q: Cats or Dogs?
A: BOTH! I grew up with cats, dogs, and all kinds of farm animals (but no livestock), so ideally, I would love to have chickens, goats and other farm animals if I could! My friends would say I'm an "animal whisperer". Ha!
Q: Favorite musician?
A: Brad Paisley
Q: What high school and college did you attend? What were your majors?
A: I graduated Boone High School a semester early, and went straight to college at AIB (American Institute of Business) in Des Moines. There I got my Accounting & Financial Services Associates degree and I was on the Dean's List. I then attended Upper Iowa University to earn my Bachelor Degree in Accounting, graduating with honors, Magna Cum Laude.
Q: If you could only eat one item of food for the rest of your life, what would you eat?
A: Probably steak. Or cheese. No, bacon. Definitely bacon.
Q: What is your favorite holiday?
A: Christmas. Easter is a close second!
Q: What do you love most about your job?
A: Helping people. My mother was a nurse, so helping people runs in our blood. I recently heard a very energetic speaker tell us that during the pandemic, financial advisors were "finally deemed essential". And then he repeated it. And then he took a long pause. He went on to say that we have always been essential because we are tasked with "guarding the wealth of the most productive people on the planet." That really resonated with me and we hope that our clients know that we don't take that task lightly. I love the job that I do and all the clients, friends and connections I've made over the last twenty years.1
With Kristen's 20 years in the Investment industry, her experience in banking, taxes and insurance prior to that and client services coordinator Vicki Gubser's experience in banking and insurance, the team has a combined financial services experience of 70 years!
Kristen is eager to put her experience and expertise to work for you! As always, contact our office today to schedule a free, no-obligation, consultation to see how we can help you guard your hard-earned wealth. We're able to meet in our offices in Guthrie Center or Panora or we can come to you.
1. Quote from Jim Bowen, CEO, First Trust Portfolios