SECURE Act 2.0 Passed in Final Days of 2022
-
01/01/23
Congress spent the final days of 2022 on new reforms designed to help Americans save more for retirement. One of the biggest changes was the changes to the age in which you must start your Required Minimum Distributions (RMD).
[+] Full Article
New Retirement Contribution Limits for 2023
-
12/01/22
The Internal Revenue Service (IRS) has released new contribution limits for certain retirement accounts for the coming year. After months of high inflation and financial uncertainty, some of these cost-of-living-based adjustments have reached near-record levels.
[+] Full Article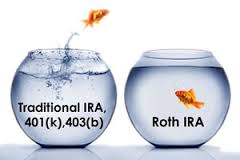 June 15, 2016
When stocks struggle or tread water, going Roth gains merit.
Converting a traditional IRA to a Roth IRA is no easy decision. After all, it is a taxable event. When the stock market is down or sluggish, however, a Roth conversion has more appeal.
Read more »